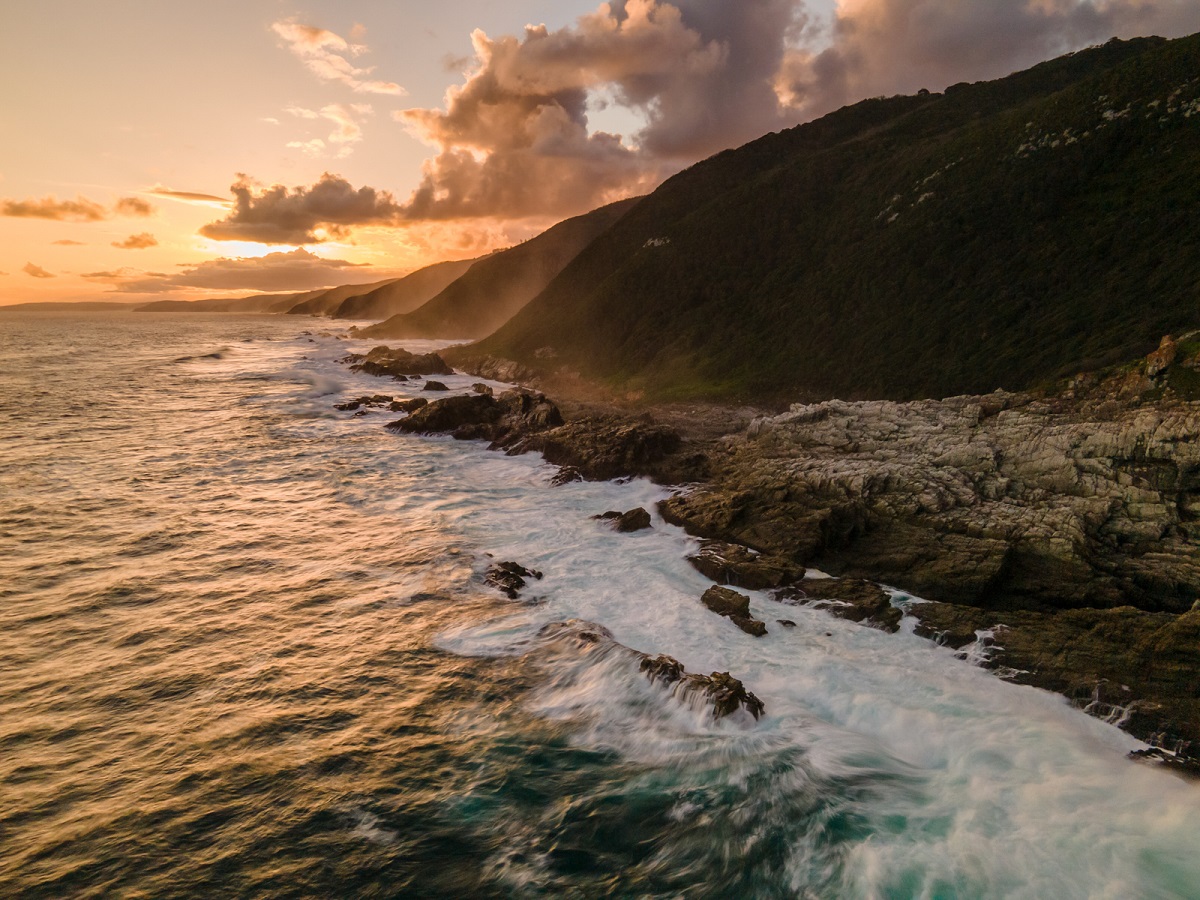 Otter'ly worth the effort.
Distance from Cape Town: 7 hours
One cannot even begin to explain how truly magical the Otter Trail really is until you've done it yourself. Over the 4 days and 5 nights of the hike, I was filled with a sense of wonder. The Otter Trail has no end to a vivid display of nature: from captivating deep green, wooded forests to waves pounding jagged rocks, to cliffs littered with blooming pincushion proteas.
On day 3, a few meters from Oakhurst Camp huts, set above the Lottering river mouth, I stood watching sea spray dance on beams of light as the sun set. It was full moon and waves smashed against the cliffs like bomb blasts. As the late afternoon light glowed between the sharp rock formations, I reveled in my good fortune at the chance to capture a hidden part of South Africa and tell a story that landscape photographers dream of.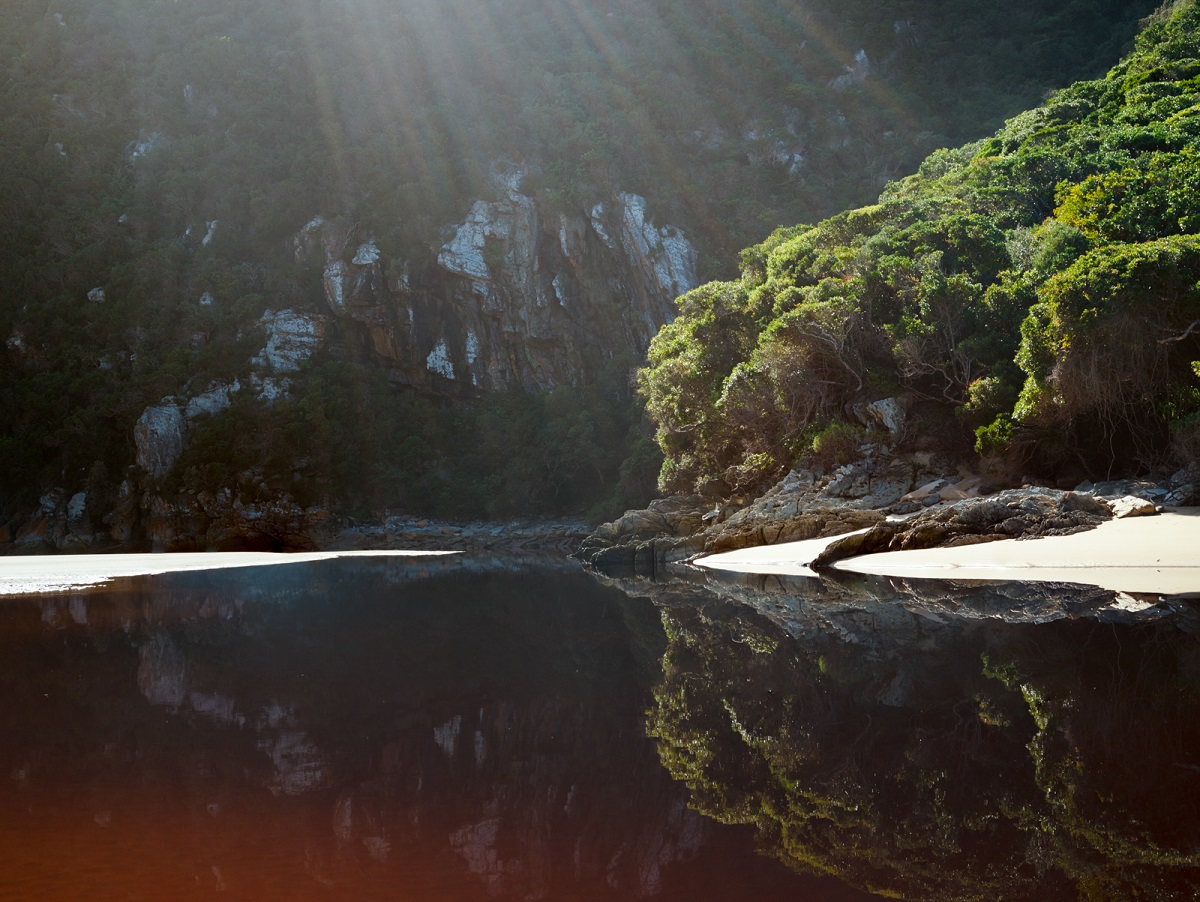 Beyond the jaw dropping vistas right on the doorstep of our camps, it was the little things that also stood out for me. Before the Lottering river crossing, I remember vividly a single valley filled with arum lilies in bloom, the only ones on the 45 kilometer trail. The location really stood out with the scattering of lilies accompanied by a family of dassies sunning themselves on the rocks.
I was completely captivated by the little droplets clinging to their giant white spathes, which were screaming at me to photograph them. Happy to say I can add one more picture to my collection of indigenous plants under one light. This time in a 100% wild environment. I just can't get over the incredible detail I managed to capture in those droplets.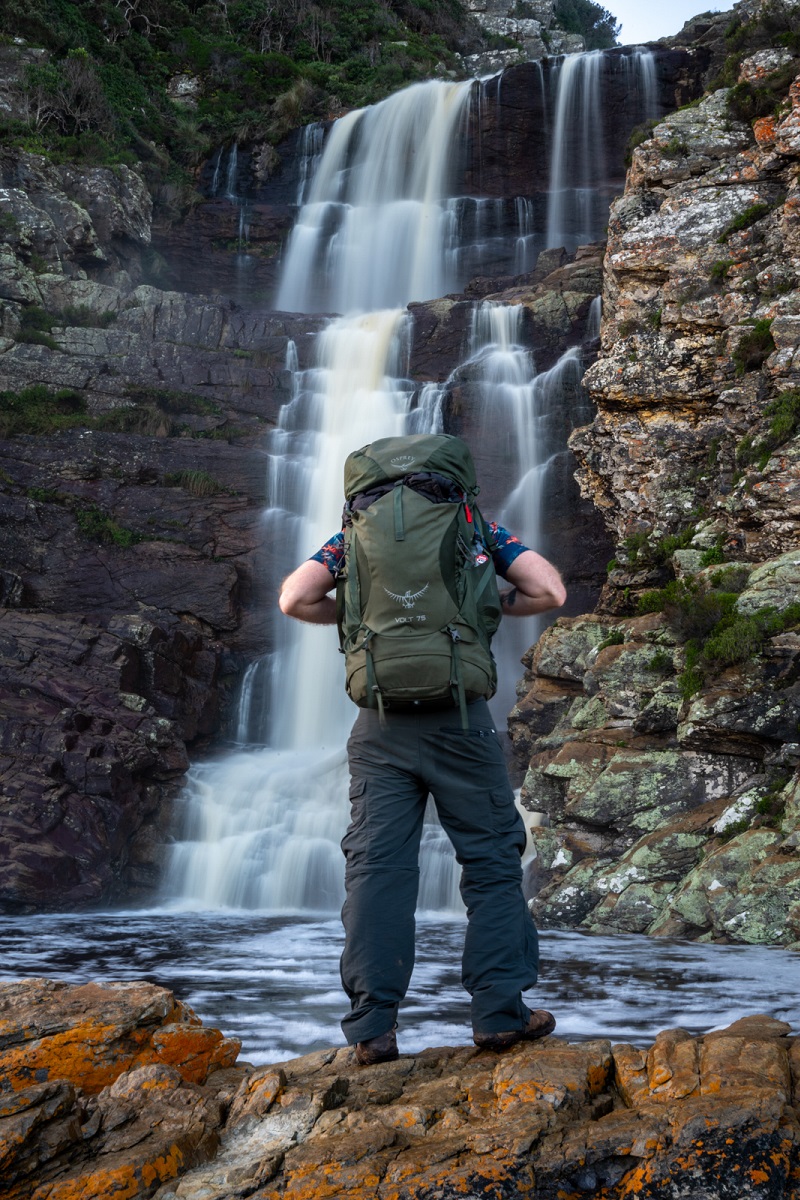 There was one spectacular moment on our very last day of the trail which will forever remain etched into my memory. Standing on the pebble beach, in the shadow of the massive cliffs, kit loaded and backpacks on, we looked back onto the Andre huts one last time. "Otter!" one of my hiking buddies shouted, when he noticed a shape moving on the rocks. To our surprise it was the elusive Cape Clawed Otter heading out for a spot of breakfast. Cameras hurtled out of bags and phones grabbed out of pockets just in time for the otter to make a graceful exit into surf.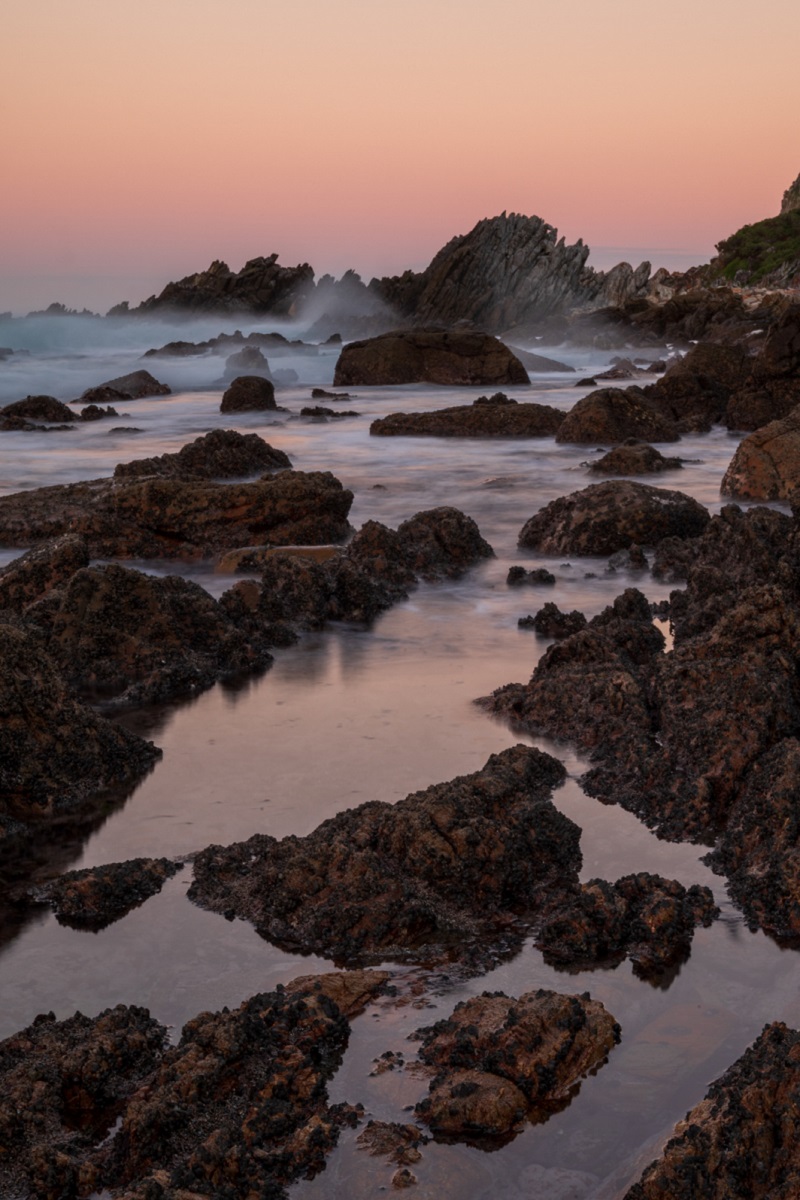 On the trail there is always something to capture your attention and a half hour later, as we made our way up the steep cliff face en route to a well-deserved lunch, a pod of dolphin surfed by just offshore. From our vantage point we enjoyed watching as they played in the crashing blue waves. It's the unexpected moments like these that stay with you long after the sweat, aching muscles and stinky (stinky!) clothes are forgotten on the trail. A hike to otter-ly cherish. I can't wait to go back again next year.
Scuttle Tip: Book your hike through Afritrails.
See more photos by Jay Caboz
Tell us about your experiences by sending us an email to adventures@scuttle.co.za. Alternatively share it with us on Facebook. We would love to hear from you.
Subscribe to get more Adventure secrets like this
Back to Adventures